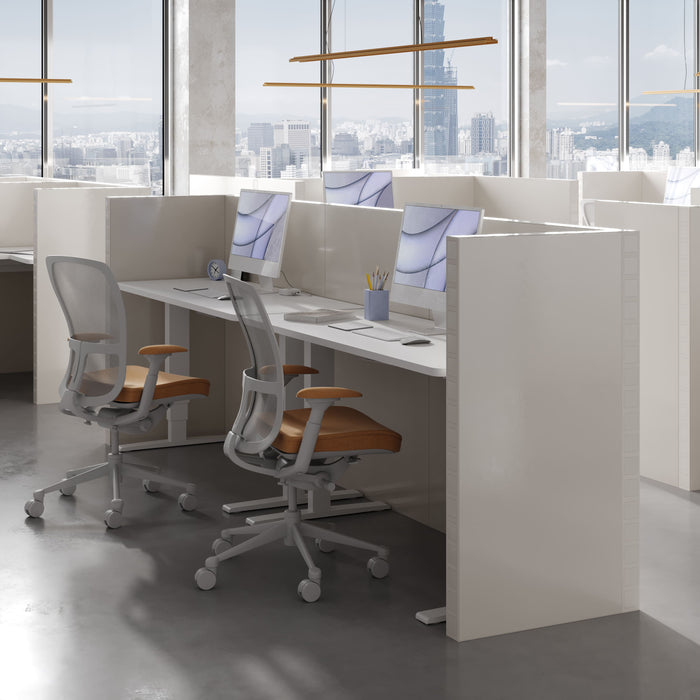 Description

What's Included

Custom Orders

Before You Buy

Assembly
With our first-of-its-kind modular office cubicles, you can create the office space you need in hours, not weeks.

Our U-shaped cubicles come in standard configurations suitable for 1 or 2 workstations and can easily be connected with any of our other cubicles.

Custom sizing is also available.
Flexible and "Growth-Proof"
As your business grows and your needs change, you can easily disassemble, reconfigure, and even combine our modular wall panels to suit your needs today and tomorrow.
Easy DIY Assembly Means No Time Wasted
The cubicles are easily assembled with our connector accessories (included), no tools needed, and are stabilized thanks to the anchor panels attached to each end. Meaning no need for wall or floor mounting.
Scheduled Doorstep Delivery and No Waiting Around
Delivered straight to your front step in as little as 2-3 weeks, scheduled ahead of time for when it suits you best, so you can avoid surprise deliveries on your busiest days. 
Create the office space you need in hours, not weeks, without the distractions and commitment of traditional office remodeling.

Pictured is a 2-seat 8'w x 2'd x 4'h cubicle with 2 42"x24" desks. 
Wall Panels
Your kit includes our signature wall panels that are 3" thick and made of Moisture and Impact Resistant Fiberglass. These panels range from sizes 4'x4'-3'x1' and snap together using included connectors for an ultra-secure two-way connection.
Lug and 2-Way Connectors
Included connectors are easily snapped into the panels, creating an ultra-secure connection between panels from all sides. These connectors allow you to connect panels to each other in seconds, making for easy assembly. 
Finishing Caps
Finishing caps are used to close off any exposed connector holes, giving the exterior of your wall a clean, finished look! Every kit includes enough caps to seal off the exposed connector holes.
1 or 2 Sit/Stand Height-Adjustable Desks
Detached height-adjustable sit-stand desk(s) that fits within your cubicle kit.

Desk sizes included depending on your cubicle width: 42"x24", 48"x24", 60"x24".
1 desk included for cubicle sizes: 4'x2'3 - 7'x3'3
2 desks included for cubicles sized 8'x2'3 and above
*Please note that while our desks complement our full range of office cubicles, there may be minor variations in fit depending on the size and shape of your workstation. Refer to our specifications menu below for exact dimensions and included desk sizes. 
Don't find your size? Not entirely sure what size is best for your space? Need some help designing your office layout? Contact us via live chat, email, or phone! We have product and space design experts ready to help answer any questions.
Say goodbye to drywall, dust, noise, and debris, and create the office space you need today.

Note that the dimensions do not take into account the 3" thickness of the wall panels.
Our wall kits are designed to be completely DIY. Two people can typically assemble and install any of our wall kits in 90 minutes or less, with little to no tools needed.
Note that a drill and/or screwdiver is recommended for installing the accordion doors and mounting the wall kit to your existing walls.
Assembly Guides