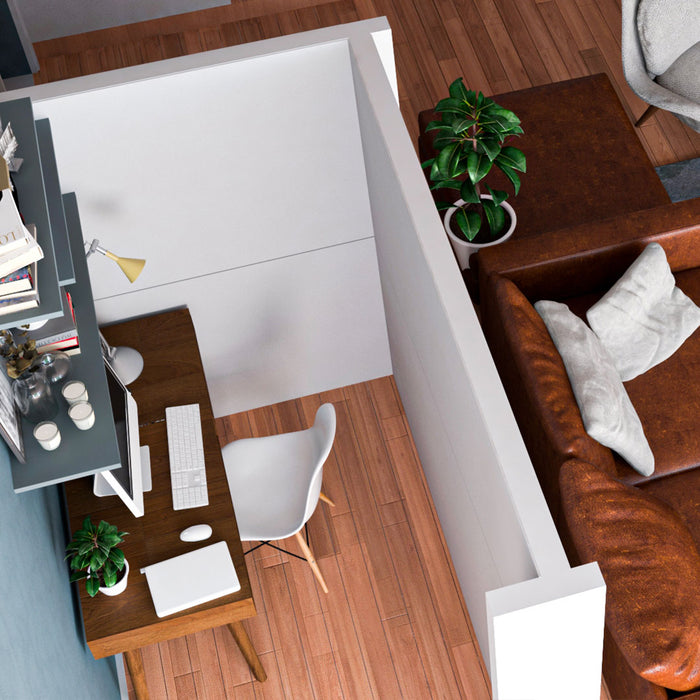 Description

What's Included

FAQs

Assembly
This state-of-the-art Partition Wall Room Divider allows you to easily assemble and customize an L-shaped wall anywhere in your home, office, or business. If you need space to work, focus, play, and/or study, the L-Shaped Partition Room Divider allows you to quickly and economically divide spaces, define areas, and establish boundaries.
As the wall system is modular, it can be easily moved, reused, and reconfigured, providing endless flexibility to always suit your needs.
Need a custom size? Contact Us via live chat, email, or phone!
Wall Panels
Your order will include our signature wall and anchor panels, between sizes 4'x4' and 3'x1'. Each panel is 3" thick and made of Moisture and Impact Resistant Fiberglass.
Anchor Panels
Anchors at the exposed end of your wall are used for stabilization. These panels are 12" wide and span the height of your divider. They are attached to the main framework of your wall by inter-panel connectors (see below).
Lug and 2-Way Connectors
Your kit includes two-way panel lug 2-way connectors, which snap into each panel and make for an ultra-secure two-way connection.
Finishing Caps
Finishing caps are used to close off any exposed connector holes, giving the exterior of your wall a clean, finished look! Your kit includes enough caps to seal off the entire perimeter of your partition. For partitions above 7' in height, finishing caps for the top are not included. Extra finishing caps can be added from Accessories.
Wall Mounting Bracket
One (1) wall mounting bracket is included with your order. Mounting to your existing wall is recommended if there's a possibility that the partition could be knocked over by kids, pets, or other unpredictable forces.
What do I need to assemble my wall?
For assembly, the best thing to have nearby is a friend or second pair of hands. The panels snap together with included lug connectors, but having someone to help you with putting the panels in place will make everything as smooth as possible!
Is the divider stable? Will it fall over?
The L-Shaped Partition Room Divider comes with stabilization features included, and being in an L-shape makes for great stability. The divider is stabilized via an anchor panel at the long end of the wall, making it stable and self-sustaining in addition to the stabilization provided by the L-shaped configuration. 
However, it can still be knocked over if impacted with enough force. For that reason, we include one wall mounting bracket to anchor the partition to your existing walls. This is recommended if there's a possibility that the partition will be knocked over by kids, pets, or other unpredictable forces such as earthquakes.
Can I hang art from the panels?
Yes! The panels are strong enough to hang standard pictures and paintings and are perfect for creating gallery walls and displaying your favorite pieces. You can either drill into the panel to place a mounting screw, or you can use wire to hang art using loops placed around lugs/finishing caps inserted in the top of your wall. We do not recommend hanging art that projects far off the wall (such as animal busts) or anything that could create a weight imbalance.
Can I paint or apply wallpaper to the panels?
It is not recommended to paint the panels as the surface is not conducive to painting and is difficult to adhere to. However, the panels are perfect for customization using peel n' stick wallpaper! To avoid seeing seams between panels when applying wallpaper, we recommend applying standard seaming tape between panels before wallpaper is applied.
How are the Kits shipped?
To keep shipping costs as affordable as possible, all our modular wall panel products are shipped on 48"x40" pallets. When your order is on the way, the courier will call you before your delivery and schedule a 2-4 hour window where you'll be home and able to receive the order. When they arrive, they'll lower your order to the ground in front of your property (curbside). You are responsible for carrying the panels and accessories into your space.
I'm renting. Am I allowed to have a partition in my home?
It depends. As this is a room divider, it should not require any permits or landlord permission, but every landlord and every county has its own rules. If you're unsure, we recommend contacting your local bylaw office and/or landlord association. 
How are your products priced?
All of our modular wall panel products are proudly designed and manufactured in the USA, which ensures top quality but does result in higher costs. However, they are still comparable to or even less than the cost of hiring a contractor to build a new wall in your space.
Unlike traditional walls, our modular system can be moved, reused, and reconfigured endlessly, providing a lifetime of value no matter where life takes you. 
Our wall kits are designed to be completely DIY. Two people can typically assemble and install any of our wall kits in 90 minutes or less, with little to no tools needed.
Note that a drill and/or screwdiver is recommended for installing the accordion doors and mounting the wall kit to your existing walls.
Assembly Guides