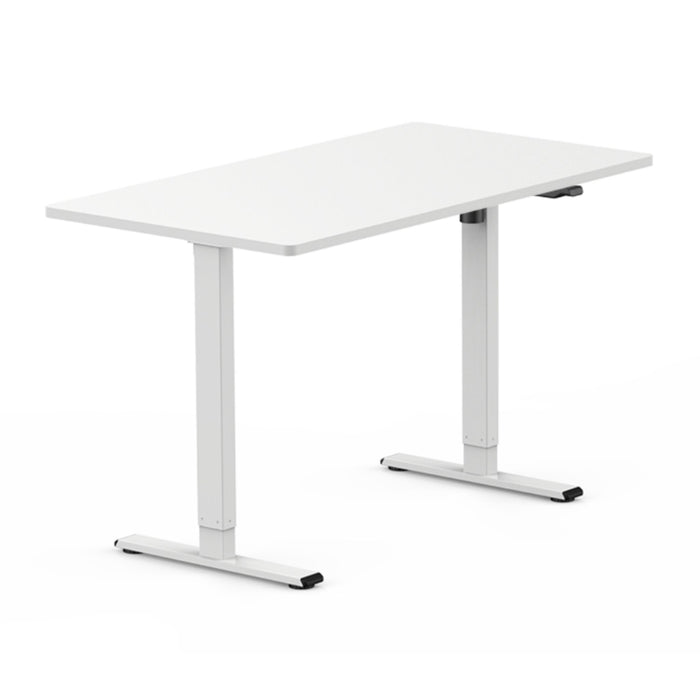 Description

Dimensions

Assembly

Shipping & Returns
Embrace an elevated work experience with our Height-Adjustable Standing Desk. The answer to all your ergonomic needs, this desk is a game changer, offering you the flexibility to shift between sitting and standing at the mere touch of a button.
Smooth Transitions, Seamless Workdays
No more discomfort during long workdays. Our desk's Quiet Motorized System enables you to transition effortlessly between sitting and standing positions. With a user-friendly control panel and one-touch adjustments, your desk's height can match your convenience every time, ensuring a seamless workday.
Fits All Spaces, Matches All Needs
Does size matter? Not to us. Our height-adjustable Sit/Stand Desk comes in Eight Versatile Sizes. Whether you need a compact desk for a small office nook or a spacious workstation for a larger environment, we've got you covered. There's a desk for every space, and a perfect fit for everyone.
##Monochrome Sophistication
Add an aesthetic edge to your workspace with our Sleek Black or Crisp White Color Options. Choose a color that complements your existing office décor, and create a workspace that's not only practical, but also elegant and modern.
Built to Last
Quality and durability go hand in hand with our desks. With its Robust Steel Frame and high-quality chipboard desktop, this desk promises years of reliable use. Designed to support up to 175 lbs, it is ready to handle various equipment setups with ease.
Hassle-Free Setup
Don't let the fear of assembly hold you back. Our desk offers Effortless Assembly with clear, step-by-step instructions. Get your new ergonomic workstation ready in no time!
Step into a healthier, more comfortable, and personalized working environment today with the Motorized Sit/Stand Desk. Enhance your office experience, boost your productivity, and transform your workspace into a stylish, versatile haven. Your future workspace is just one desk away.
Desktop
Frame
Setting up your Height-Adjustable Standing Desk is effortless! Designed with user-friendly assembly in mind, you'll be up and running in no time. 
Shipping
Orders typically ship out in 2-3 business days, and are typically delivered 4-7 days after you place your order. In some cases it might be faster.

If you have any questions about shipping (or anything else), feel free to contact us via live chat, phone or email!
Returns
Please see our Return Policy.
Warranty
This product is guaranteed by a Three Year Warranty.