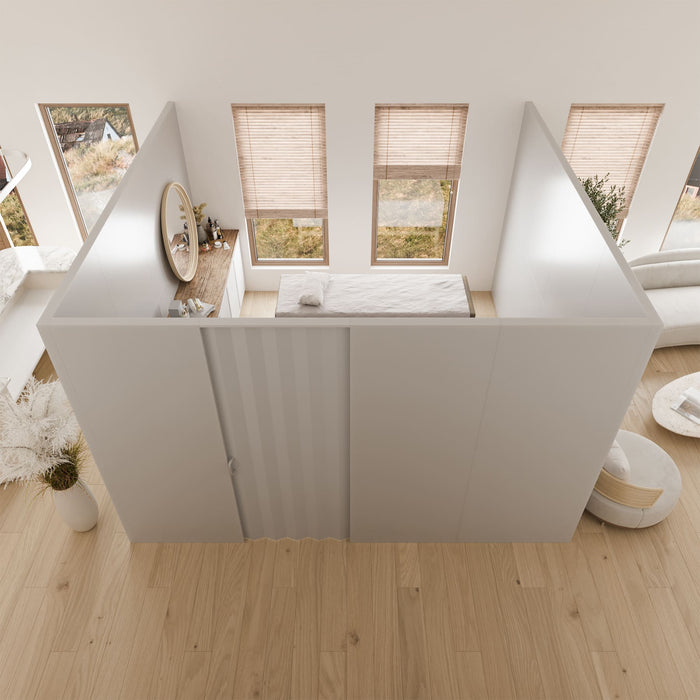 Description

What's Included

Before You Buy

Assembly
Our U-shaped Partition Wall With Door Kit is the easiest way to create a completely separate, private room using just one of your existing walls. The kit includes everything you need to set up a sleek, modern space with an included accordion door anywhere in your home or business.
The U-shaped Room Kit is both a popular choice for businesses looking to create treatment rooms, consultation rooms, or just a more private working area, as well as for residential use, where the kit offers an easy way to create an extra room that can easily be positioned anywhere along your existing walls. The room kit offers endless opportunities, with standard sizes ranging from 35 to 168 sq. ft. Pictured is a 12'x12' room.
Need a custom size?
Don't find your size? Not entirely sure what size is best for your space? Contact us via live chat, email, or phone! We have product and space design experts ready to help answer any questions.
If you are looking to set up a room in a corner, check out our L-shaped wall kit.

Say goodbye to drywall, dust, noise, and debris, and create the space you need today.


Wall Panels
Your kit includes our signature wall panels that are 3" thick and made of Moisture and Impact Resistant Fiberglass. These panels range from sizes 4'x4'-3'x1' and snap together using included connectors for an ultra-secure two-way connection.
Accordion Door Kit
The included accordion door kit is 36" wide and either 84" or 96" in height, depending on the height of the partition you purchase. The kit comes with a specialized lintel that includes a track for the accordion door. Simply slot the folding door into the track and install it between two panels, locking the lintel and door into place using the lug or 2-way connectors. Each door includes two thresholds, a double-sided handle, and three integrated magnets to hold the door in position when closed.

The door is, by default, positioned on the width of the bottom wall of the U (as pictured). If you would like to position the door differently, feel free to reach out before placing your order, and we can help you with that. 

Wall Mounting Brackets (2)
The Wall Mounting Brackets make it easy to anchor the partition to your existing walls keeping the entire partition safely secured. When removed, the only marks left on your walls are the small holes from the screws, allowing for easy filling and painting.
To mount, screw the bracket to the fixed wall, nest the panel inside the L, and screw the bracket to the panel. Detailed instructions on this can be found in the "Assembly" tab above.
Lug and 2-Way Connectors
Included connectors are easily snapped into the panels, creating an ultra-secure connection between panels from all sides. These connectors allow you to connect panels to each other in seconds, making for easy assembly. 
Finishing Caps
Finishing caps are used to close off any exposed connector holes, giving the exterior of your wall a clean, finished look! Every kit includes enough caps to seal off the exposed perimeter of your wall. Finishing caps for the top are not included. Extra finishing caps can be added from our Accessories page.


Before you buy, the most important thing to do is measure your ceiling height. Your ceiling must be at least 2" higher than the height of your partition. For example, if you're looking to buy an 8' partition, your ceiling must be at least 8'2". This allows you to assemble the partition comfortably and place it in your space. Without any clearance, you're at risk of not being able to assemble/install the partition at all, which we don't want! 
Do also make sure to check your floor for dips and bulges. Uneven flooring can impact the installation of your product.
Once you've confirmed your ceiling height and ensured your floor is level, you're good to go.

Note that the dimensions do not take into account the 3" thickness of the wall panels. 
Our wall kits are designed to be completely DIY. Two people can typically assemble and install any of our wall kits in 90 minutes or less, with little to no tools needed.
Note that a drill and/or screwdiver is recommended for installing the accordion doors and mounting the wall kit to your existing walls.
Assembly Guides