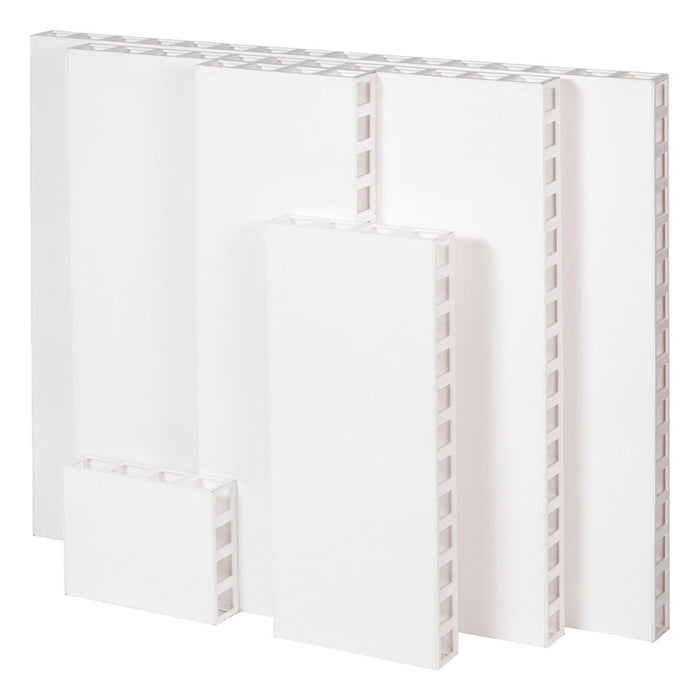 There is no substitute for seeing and feeling in person!

Get a 1'x1' modular wall panel sample shipped right to your door, so you can get a real look and feel.

Your sample order is refunded on your following modular wall order.

This Product is a Final Sale and non-returnable. Sample panels do not come with any connector accessories and can, therefore, not be used to build any shapes or configurations.
What is the difference between "Freestanding" and "Mounted" wall kits?Mounted Wall Kits include 4-foot long wall mounting channels, which securely fasten the kit to your existing walls using just a few screws at each end, and thereby creates a very stable and secure wall.
Freestanding Wall Kits rely on our included 1ft wide wide anchor panels attached at each end for stability, offering a significant amount of support. Extra wide wall kits will have 2ft wide anchor panels, to further stabilize the wall.
I don't find my dimensions? Can you do custom orders?
Yes, we can do custom orders, down to 3" increments in width and depth, and 1ft increments in height up to a maximum of 10ft.
Simply send us an email on hello@diyversify.com with your requirements or use our Custom Order Form on the site, and we will get back to you with a custom quote within 24 hours.
Can I place the door where I want?
By default doors are placed in the most economical position. If you do have a preference, please reach out to us, and we can check if that is possible with your dimensions, or if we can do a custom order for you.
Note that doors do need to have a least 1ft of wall panel on each side.
What do I need to assemble my Kit?
For assembly, you'll need a drill and screwdriver to attach the Wall Mounting Bracket to your existing wall and to attach the accordion door frame to the panels. No other tools required!
I have trim/baseboards along my wall. Can I still mount to my existing walls?
Yes! Our wall mounting brackets measure 3"x3", so as long as your trim/baseboards are no wider than 1" you can still use our wall mounting brackets to mount the walls. Note that you will have a gap the size of your trim/baseboard between your existing walls and your new Diyversify walls.

What screws do I need for the Mounting Brackets?

The L-Channels and the wall panels can be fastened by whatever simple fasteners you use so it is more about the material you are fastening them to. For traditional interiors, drywall & wood, you can use #2 drywall screws, or self-tapping machine screws. But for concrete block or masonry you may need a more specialized fastener.
General construction screws works for our modular wall panels, as long as they are longer than 1.25".
Can the walls be installed on carpet floors?
Yes, as long as it is not a high-pile carpet. Any of our wall-mounted wall kits can easily be installed on low-medium pile carpets as long as there are no major dips or bulges in the floor, and you make sure to mount the walls to your existing walls.
Can I hang art from the panels?
Yes, the panels are strong enough to hang standard pictures and paintings and are perfect for creating gallery walls and displaying your favourite pieces.
You can either drill into the panel to place a mounting screw, or you can use wire to hang art using loops placed around lugs/finishing caps inserted in the top of your wall.
We do not recommend hanging art that projects far off the wall (such as animal busts) and anything that could create a weight imbalance.

Are the walls sound proof?
The panels themselves have a Noise Reduction Coefficient of about 0.5, which indicates about a 50% reduction in sound that passes through them. However, most of the sound transmission that occurs will be due to the gap between the panels and the ceiling.

What can I do to cover the gap between the wall and our ceiling?
We don't recommend covering this gap, as it is both useful for air flow, as well as to make sure your smoke detectors are still functioning properly.
If you want to minimize the gap, we recommend going to your local home/hardware store and find some foam blocks or similar that you can lay on top of the wall. The wall is 3" thick, so you will be able to lay something flat on top.

Can I paint or apply wallpaper to the panels?
It is not recommended to paint the panels as the surface is not conducive to painting and is difficult to adhere to.
However, it is possible to use standard peel & stick wallpaper to create endless customizations of your wall divider.
To avoid seeing seams between panels when applying wallpaper, we recommend applying standard seaming tape between panels before wallpaper is applied.
How are the Modular Wall Kits shipped?
In order to provide free shipping the modular wall kits are shipped on 48"x40" pallets. When your order has arrived at your local distribution center, the courier will typically call you a day in advance to schedule a 2-4 hour window where you'll be home and able to receive the order.
When they arrive, they'll lower the Kit to the ground in front of your driveway (curbside), where you can begin bringing the panels inside your home.
Note that you are responsible for disposing of the packaging as well as the pallet.
I'm renting. Am I allowed to install a Partition Wall in my home?
This all depends on the agreements you have with your landlord. Different counties and landlord boards have different regulations for certain modifications and additions to a home, but we wrote a blog post on the topic to make things as clear as possible!
If you're unsure, we recommend contacting your local bylaw office and/or landlord association.
How are your products priced?
All of our Kits are proudly designed and manufactured in the USA, which ensures top quality but does result in higher costs. However, they are still comparable to or even less than the cost to hire a contractor to build a new wall or room in your home.
Unlike traditional walls, our modular system can be moved, reused, and reconfigured endlessly, providing a lifetime of value no matter where life takes you.
Why not just build a regular frame wall?
For those who have tools, carpentry expertise, permits, and are ready to make permanent alterations to their home, this may be a better option.
However, if you don't have carpentry experience, having a wall built professionally can cost anywhere between $2500-$10,000, depending on location and size of your project.
In addition, there are often required building plans, permits, cleanup costs and demolition costs if you ever change your mind.
If you prefer a solution that can be disassembled, moved and taken with you when you move or repurposed when your needs change, our temporary modular wall kits are perfect for you!
Our wall kits are designed to be completely DIY. Two people can typically assemble and install any of our wall kits in 90 minutes or less, with little to no tools needed.
Note that a drill and/or screwdiver is recommended for installing the accordion doors and mounting the wall kit to your existing walls.
Assembly Guides