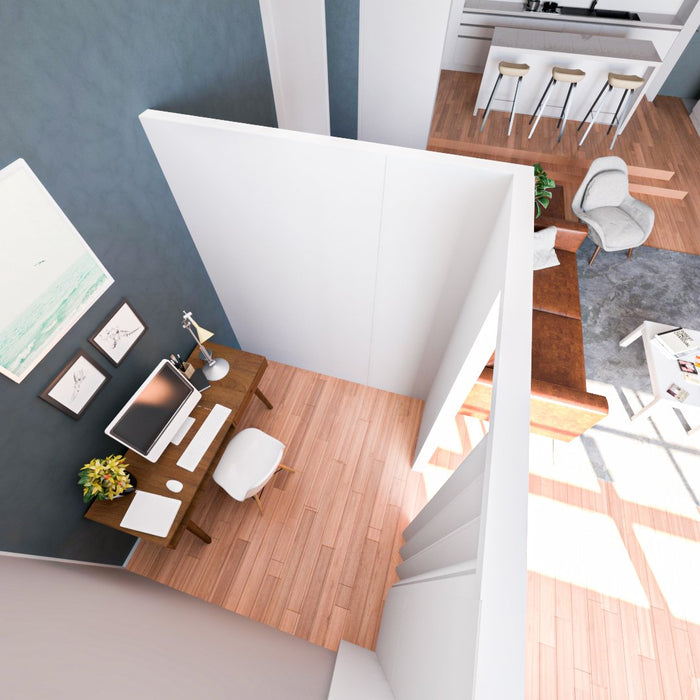 Description

What's Included

Before You Buy

Shipping & Returns

FAQs

Assembly
Whether you need a home office, study room, guest bedroom, or just some added privacy, you can have it all with no tools, contractors, or hassle. All panels, connectors, and caps are included, along with the framed accordion door.

The Freestanding L-Shaped Room Kit is only as permanent as you want it to be, with no drilling required! Your new temporary wall is completely freestanding, with 12" wide anchor panels at each open end to keep it stable and secure. The only tool needed is a drill to attach the accordion door to the frame. 


Wall Panels
3" thick wall panels crafted from Moisture and Impact Resistant Fiberglass. These panels are not only lightweight and sound-absorbing but also simple to maintain and clean. Assembly is straightforward, with panels snapping together using lug connectors, ensuring a stable and secure fit.

Accordion Door Kit
a 36" wide accordion door kit with height options of either 84" or 96", tailored to the height of the partition you choose. This kit features a specialized lintel, complete with a track designed exclusively for the accordion door. Installation is straightforward: just slide the folding door into its track and secure it between two panels, using the lug or 2-way connectors for a firm lock. To enhance functionality, each door comes with two thresholds, a double-sided handle, and three embedded magnets to keep it securely closed.

Please note that the door is strategically placed along the wall's width for optimal use of space. Should you desire a different door placement, don't hesitate to contact us. We're more than happy to customize the kit to suit your needs, though additional charges may apply.

Anchor Panels
Anchor panels are employed at the exposed ends of your wall to ensure maximum stability. These panels measure 12" in width and match the height of your wall at 4'. Easily affix them to the primary structure of your wall using Lug and 2-Way Connectors.
Lug Connectors
Your kit includes two-way panel lug connectors, which snap into each panel and make for an ultra-secure two-way connection.
2-Way Connectors
Panels are held together using Lug Connectors, but also 2-Way Connectors, which keep them attached at the top and bottom. Just like the Lug Connectors and Finishing Caps, these connectors snap securely into the receiving holes found on all wall and anchor panels. 
Finishing Caps
Finishing caps are used to close off any exposed connector holes, giving the exterior of your wall a clean, finished look! Your kit includes enough caps to seal off the entire perimeter of your wall. For walls above 6' in height, finishing caps for the top are not included. Extra finishing caps can be purchased from our Accessories.
Before you buy, the most important thing to do is measure your ceiling height. Your ceiling must be at least 2" higher than the height of your partition. For example, if you're looking to buy an 8' partition, your ceiling must be at least 8'2". This allows you to assemble the partition comfortably and place it in your space. Without any clearance, you're at risk of not being able to assemble/install the partition at all, which we don't want! Do also make sure to check your floor for dips and bulges. Uneven flooring can impact the installation of your product.
Once you've confirmed your ceiling height and ensured your floor is level, you're good to go.
Shipping
Orders ship from local warehouses in the US (MN) and UK, and are typically delivered in 9-15 business days. After you place your order, you will receive a confirmation email. Once your order is processed and shipped, you will receive tracking info via email.
1-2 days prior to your delivery, the courier will call you to schedule a time for delivery. You must be home when your delivery is scheduled.
When the courier arrives, they will meet you at the curb of your building or driveway, and lower the pallet to the ground. Then you can easily transport the wall panels into your home. If you have an extra pair of hands to help, this will only take a couple of minutes.
If you have any questions about shipping (or anything else), feel free to contact us via live chat, phone or email!
Returns
Please see our Return Policy.
Warranty
This product is guaranteed by a Two Year Warranty.
What do I need to assemble my kit?
For assembly, you'll need a drill to attach the accordion door frame to the panels. No other tools required!
Can I hang art from the panels?
Yes, the panels are strong enough to hang standard pictures and paintings and are perfect for creating gallery walls and displaying your favourite pieces. You can either drill into the panel to place a mounting screw, or you can use wire to hang art using loops placed around lugs/finishing caps inserted in the top of your wall. We do not recommend hanging art that projects far off the wall (such as animal busts) and anything that could create a weight imbalance.
Can I paint or apply wallpaper to the panels?
It is not recommended to paint the panels as the surface is not conducive to painting and is difficult to adhere to. However, it is possible to use standard peel & stick wallpaper to create endless customizations of your wall divider. To avoid seeing seams between panels when applying wallpaper, we recommend applying standard seaming tape between panels before wallpaper is applied.
How is this kit shipped?
To keep shipping costs as affordable as possible, the kits are shipped on 48"x40" pallets. When your order is on the way, the courier will call you before your delivery and schedule a 2-4 hour window where you'll be home and able to receive the order. When they arrive, they'll lower the kit to the ground in front of your driveway, (curbside) where you can begin bringing the panels inside your home.
I'm renting. Am I allowed to install a Partition Wall in my home?
Because it's freestanding, this partition may be allowed by your landlord. However, every landlord is different and it all depends on your agreement with them.
We wrote a blog post on the topic to make things as clear as possible! If you're unsure, we recommend contacting your local bylaw office and/or landlord association.
How are your products priced?
All of our products are proudly designed and manufactured in the USA, which ensures top quality but does result in higher costs. However, they are still comparable to or even less than the cost to hire a contractor to build a new wall or room in your home.
Unlike traditional walls, our modular system can be moved, reused, and reconfigured endlessly, providing a lifetime of value no matter where life takes you.
Why not just build a regular frame wall?
For those who have tools, carpentry expertise, permits, and are ready to make permanent alterations to their home, this may be a better option.
However, if you don't have carpentry experience, having a wall built professionally can cost anywhere between $2500-$10,000, depending on location and size of your project.
In addition, there are often required building plans, permits, cleanup costs and demolition costs if you ever change your mind.
If you prefer a solution that can be disassembled, moved and taken with you when you move or repurposed when your needs change, our temporary modular wall kits are perfect for you!
Our wall kits are designed to be completely DIY. Two people can typically assemble and install any of our wall kits in 90 minutes or less, with little to no tools needed.
Note that a drill and/or screwdiver is recommended for installing the accordion doors and mounting the wall kit to your existing walls.
Assembly Guides