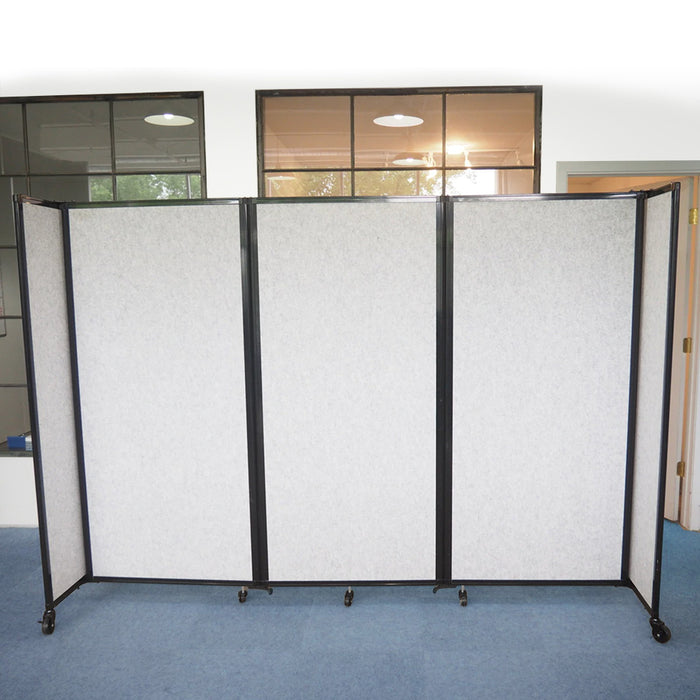 Description

Assembly

Shipping & Returns
With 360° hinges, dual wheel casters and a lightweight aluminum frame, the 360 Folding Acoustical Partition is the most versatile partition there is, allowing for endless arrangements for nearly every application.
The sound-dampening acoustical fabric panels not only make your space quieter, but provide a firm, tackable surface, perfect for attaching signage, art, and notes.

Controlling space and sound is essential in all kinds of different environments, and the 360 Folding Acoustical Partition is perfect for nearly all of them. We've seen it used to divide offices, schools, dance studios, apartments, facilities and more!
Highlights
Rated up to 0.60 NRC, the acoustic panels dampen sound and reduce noise levels in your space by up to 60%.
 Full-sized 26" panels make a T connection at the end of the partition, making for easy movement and increased stability.
Tackable fabric surface makes it easy to pin signage, photos and documents.
The patented 360-degree rotating hinge allows you to adjust, fold, store and expand the divider in any configuration.
 Lockable caster wheels on each individual panel allow for easy movement and even easier locking.
This product ships on a pallet, with curbside delivery included. The courier will call you 1-2 days before your delivery is scheduled to arrive, to give you an estimated arrival time. You must be present at the delivery address when the shipment arrives. When the courier arrives, they'll lower the pallet to the ground at the entrance to your property. You will be responsible for bringing the product inside your space.
Please see our Return Policy.
Orders of this product are shipping out in 2-3 weeks.