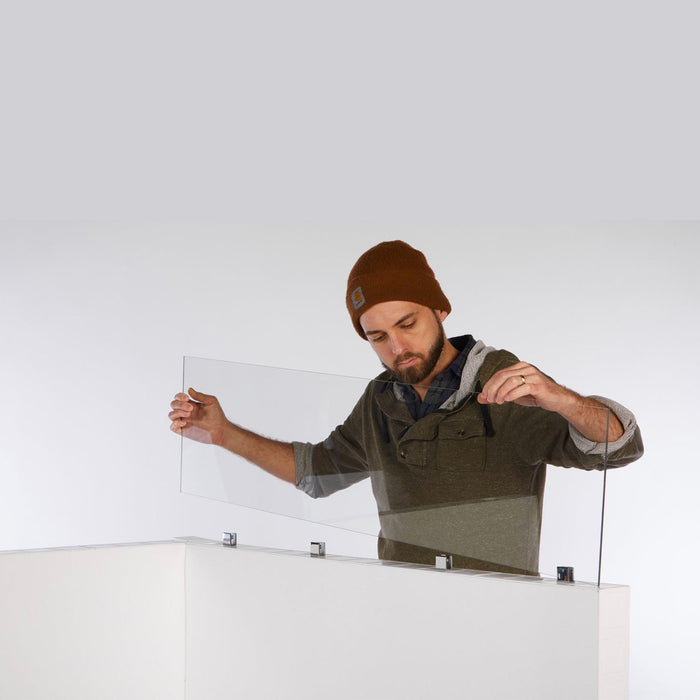 Description

Specifications

Included

Shipping & Returns
The Modular Window Insert is perfect for allowing light into a space that you want otherwise closed off. The Window Panel may be inserted into an existing modular wall segment or on top of a standard-height or cubicle height modular wall.
Modular clear polycarbonate window inserts for use when creating see-thru windows within an EverPanel wall assembly. 
To create a window insert or decorative wall top, utilize our 1/4" clear polycarbonate sheet, mounted with the Mounting Caps (included).
Polycarbonate panels are fastened into place by screwing down the mounting screw on each Mounting Cap, and then the panel with caps is inserted into modular wall panel sections by inserting the caps into the receiver holes that surround the perimeter of all modular wall panels.
| | |
| --- | --- |
|  Material | Polycarbonate |
| Thickness | 0.25" |
| | | |
| --- | --- | --- |
|  Size | Window Panel | Mounting Brackets |
| 1' x 4' | (1) Polycarbonate Window Panel | 6 |
| 3' x 4' | (1) Polycarbonate Window Panel | 8 |
| 4' x 4' | (1) Polycarbonate Window Panel | 12 |
Shipping
Orders ship from local warehouses in the US (MN) and UK, and are typically delivered in 9-15 business days. After you place your order, you will receive a confirmation email. Once your order is processed and shipped, you will receive tracking info via email.
1-2 days prior to your delivery, the courier will call you to schedule a time for delivery. You must be home when your delivery is scheduled.
When the courier arrives, they will meet you at the curb of your building or driveway, and lower the pallet to the ground. Then you can easily transport the wall panels into your home. If you have an extra pair of hands to help, this will only take a couple of minutes.
If you have any questions about shipping (or anything else), feel free to contact us via live chat, phone or email!
Returns
Please see our Return Policy.
Warranty
This product is guaranteed by a Two Year Warranty.