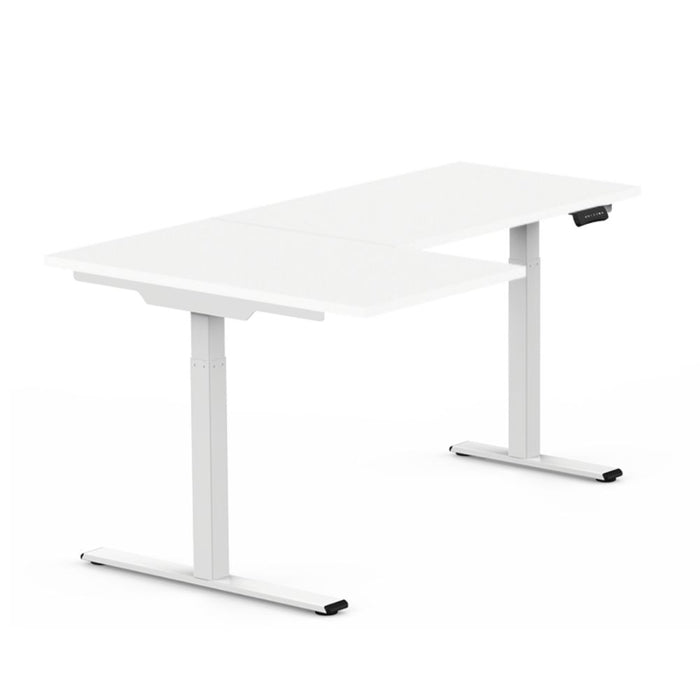 Description

Dimensions

Assembly

Shipping & Returns
Experience Comfort with Flexibility
Experience an exceptional, dynamic workspace with our **L-Shaped Height-Adjustable Standing Desk**. Tailored to meet the highest standards of comfort and ergonomic excellence, this motorized desk is a must-have for every setting - from home offices to corporate workspaces, it's all about reinventing your work environment.

Seamless Transitions
Are you ready to change your posture without interrupting your flow? Our desk features an Ultra-Quiet Motorized System ensuring smooth transitions between sitting and standing. With its user-friendly control panel, one-touch height adjustments are at your fingertips, offering optimal ergonomics every time.

Perfect Fit for Every Space
Our desk comes in Two Size Options to cater to your workspace, be it a cozy home office or a sprawling corporate workstation. With this versatility, there's always a perfect fit ready to enhance your productivity.

Classic Elegance Meets Modern Design
Why settle for less when you can have the best? The Classic White Design adds an elegant touch to your workspace. The refined, modern look of both the desktop and frame complements any interior, ensuring your workstation is always a sight to behold.

Built to Last
When we say our desk is reliable, we mean it. The Durable Construction features a robust steel frame and a high-quality chipboard desktop that promises years of dependable use. Capable of supporting up to 175 lbs, it's ready to accommodate your diverse equipment setups.

Setting Up Made Simple
We understand that your time is precious. That's why our desk guarantees a Hassle-Free Assembly. Clear, step-by-step instructions are provided, allowing you to set up your new ergonomic workstation in no time.

Revamp your workspace today with the L-Shaped Motorized Height-Adjustable Standing Desk. It's more than just a desk; it's about embracing a healthier, more comfortable, and adaptable work lifestyle. Step into the future of office experience and boost your productivity with this sophisticated and versatile solution.
Frame
Assembly has never been easier! Our L-shaped desks are designed with user-friendliness in mind, ensuring a straightforward setup experience. For detailed step-by-step guidance, check out the link below to access our comprehensive assembly guide PDF.

Height Adjustable L-Shaped Desk Assembly Guide (PDF)


Shipping
Orders typically ship out in 2-3 business days, and are typically delivered 4-7 days after you place your order. In some cases it might be faster.

If you have any questions about shipping (or anything else), feel free to contact us via live chat, phone or email!
Returns
Please see our Return Policy.
Warranty
This product is guaranteed by a Three Year Warranty.