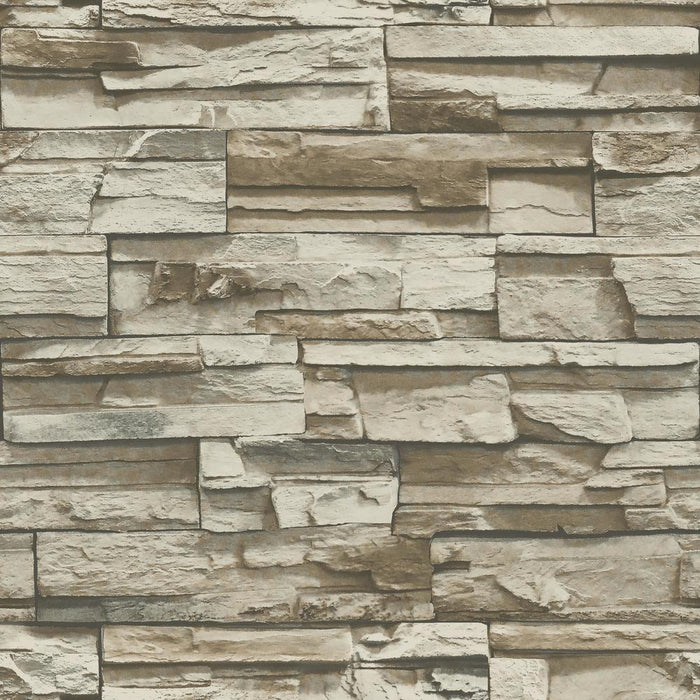 Description

Size Calculator
Get a cool, contemporary look with Stacked Stone Peel and Stick Wallpaper. Designed to emulate the texture of real stone, now you can easily transform walls in just a few hours with the easiest wallpaper you'll ever hang.
Printed onto high quality peel and stick backing, simply peel away from the backing and fasten to a smooth and flat surface. This Peel and Stick Wallpaper is no fuss because it's reusable and repositionable. Get inspired today!
Features: 
Peel and Stick easily
No clean up
Fast and enjoyable
Best used a smooth, flat surface
Easy room improvement
Perfect for furniture, photos frames, a feature wall and more
Removable and transferable
Reusable
Printed on high quality vinyl
Made in the USA
Suitable for renters and homeowners
Special Effects: N/A
Match Type: Straight
Pattern Repeats Every: 20.5"
Roll Dimensions (WxL):
20.5" x 16.5' = 28.18 sq ft
When combining wallpaper with our Everpanel partition products, calculating the number of rolls you'll need is fairly straightforward.
1. Choose your wall configuration and size
For this example, we'll be using our 9'x6' Wall Mounted Everpanel L-Shaped Partition Wall + Door Kit, at 8' in height.
2. Determine coverage area needed
Break down your kit by each individual wall. For the L-shaped kit, there are two walls:
9'x8' (WxH)
6'x8' (WxH)
Multiply each wall width by its height.
9x8 = 72
6x8 = 48
48+72 = 120 sqft
Don't forget to subtract the square feet of your door, if your kit includes a door.
The accordion door included in all Everpanel kits is 3' wide, and spans the height of your selected wall.
So, subtract 3'x8' = 24 sqft
120-24 sqft = 96 sqft
This is for coverage on one side only. If you want to cover both the inside and outside of your wall, double this total.
For our example, we'll just be covering the outside of the wall, so we'll stick with 96sqft of needed coverage.
3. Determine # of rolls needed
In the "Overview" tab, you'll find the Roll Dimensions, which includes the total square footage for each roll.
Our most common wallpaper roll size is 20.5" x 16.5' = 28.18 sq ft
Coverage Needed ÷ Roll Dimensions = # of rolls required
In our example this looks like:
96 ÷ 28.18 = 3.4
Take the number of rolls required, and round it up to the nearest whole number. In this case, 4 rolls of wallpaper would be needed to cover one side of our selected wall kit.
If you want to cover both the inside and outside of your wall kit, double this number. If we were covering both sides of the wall for this example, we would need 8 rolls of wallpaper.
And that's it!
Still unsure? Contact us! We're available via live chat and email, 7 days a week.